Khajjiar (22Km)
Khajjiar is often reffered to as "Gulmarg of Himachal Pradesh". The lush green meadows are surrounded by thick pine and cedar forests. Grazing herds of sheep, goats and other milch cattle present a prefect pastoral scenery. There is a small lake in the center of the saucer shaped meadow which has in it a floating island.
Kalatop
Kalatop Sanctuary is a 30.69 km² animal sanctuary at Kalatop. The sanctuary area is well laid out for trekking trails. There is a dense deodar and fir forest covering 19.63 km² of the sanctuary, which is about 6 km from Dalhousie. Pheasants, serow and black bear are some of the common animals found here.The sanctuary lies in the path of the Ravi River, and is surrounded by coniferous and oak forests.
Chamera lake
The Chamera Dam impounds the River Ravi and supports the hydroelectricity project in the region. It is located near the town of Dalhousie, in the Chamba district in the state of Himachal Pradesh
Dalhousie is a hill station full of colonial charm that holds lingering echoes of the Raj. Spread out over the five hills (Kathlog, Potreys, Tehra, Bakrota and Balun) the town is named after the 19th century British Governer General Lord Dalhousie. It was popular with the British Army personnel in 1860's. The town's varying altitude shades it with a variety of vegetation that includes stately grooves of pines, deodars, oaks and flowering rhododendrowns. Rich in colonial architecture, the town preserves some beautiful churches. St. John church is the oldest one built in 1863, St. Francis was built in 1894, St. Andrew in 1903 and St. Patric in 1909.
Summer Season in Dalhousie lasts from mid-March to mid-June. In this season, temperature is moderate and thermometer fluctuates between 15.5 deg C and 25.5 deg C. Most of the tourists, especially from the plains of India, flock here in this weather only. When rest of India experiences hot and humid weather, Dalhousie remains pleasant and cool. Thus, people who want some respite from merciless hot temperature opt for the hill resort.
Monsoons Season in Dalhousie lasts from June to September. The place receives annual average rainfall of around 214 cm. After every rain, mountains give clean and shining semblance and become the most scenic. Monsoon season gives the best opportunity for newly married couples to go to Dalhousie for honeymoon, as weather become romantic and exhilarating.
Winters Season last from November to February. The winters are tough here. Being located at high altitude, the place experiences minus temperature in winters and even snowfall takes place during December and January. Hotels provide hefty discounts to travelers in winter, which is an added advantage if you want to save some money on your accommodation.
Important Information
HDFC, SBI, PNB have their bank Branch and ATM in Dalhousie. Conversion of currency is possible at HDFC and PNB.
The Post Office is also located at the G.P.O. It remains open from 10a.m. to 5 p.m.
Dalhousie has one Civil Hospital managed by the H.P State Government, there are few chemist shops in Dalhousie, one is at G.P.O and two at Subash Chownk.
Taxi services are provided by the Dalhousie Taxi Union having their offices at G.P.O, Subash Chownk & Bus Stand.
There are two world renowned Public Schools, Dalhousie Public School and Sacred Heart School.
As Shimla finds its focus in the mall, in Dalhousie action gravitates in the evening to the G.P.O. which presents a riot of colours and activity. Sometimes it even becomes difficult to surge ahead without jostling and elbowing. Most of the good eateries and handicraft emporia, hotels and of course the ever attractive Tibetan market are all around the G.P.O. There is a library and a reading room at the G.P.O. for the convenience of the tourists.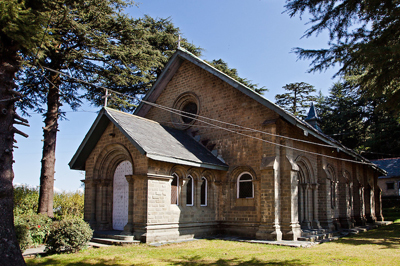 St Johns ChurchThis Church stands on the Gandhi Chowk. This Church was the first to be built after the town of Dalhousie was founded. Prior to 1863 a wooden structure stood at this place. The idea to build a stone structure took birth with the arrival of Rev. John H. Pratt who came to Dalhousie on 11-04-1863 and inspired the Christian community to build a permanent church building at this place. Building of this church is a copy of Roman Catholics Church of England but this church belongs to Protestants.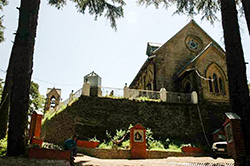 This Catholic Church is a very prominent monument on the Subhash Chowk. This Church was built in the year 1894 from the contributions made by Army and Civil Officers and Civilians. This Church is managed and maintained by the Cathoilic Diocese of Jalandhar. St. Francis' Church on Prtrain hill is believed to have been built on the lines of a certain church in England. Beautiful glass work and intricate stone work can be seen in the Church. Service is conducted every Sunday.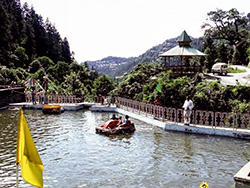 Panjpulla - 3 KM from Dalhousie
It means five bridges. It is a picturesque spot with water flowing under the five small bridges. A samadhi of Sardar Ajit Singh, uncle of Bhagat Singh, adds to its importance. A small fresh water spring Satdhara is close by. There is also a water fall at Panjpulla.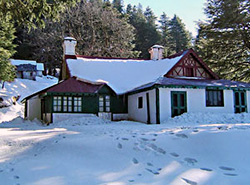 Kalatope - 7 KM from Dalhousie
Kalatop is 10 kms from G.P.O. at an altitude of 8000 feet. Walking along the secluded and forested road through upper Nakorota hills, one reaches Lakkarmandi. Between G.P.O. and Lakkarmandi lies the Dalhousie water system, Tibetan Handicraft Centre and Dalhousie Potato Farm at Ahla. Lakkarmandi is nestled between 8600 feet high DayanKund peak on its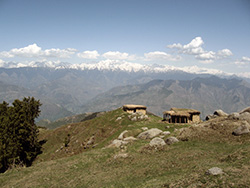 Dainkund-12 KM from Dalhousie
Dainkund is 10 km from Dalhousie. On a clear day this tall peak (2745 m) affords a birds eye-view of the hills, verdant valleys and the Beas, Ravi and Chenab rivers threading their silvery passage down to the plains.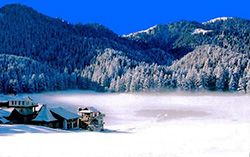 Khajjiar - 22 KM from Dalhousie
Khajjiar is often referred to as "Mini-Swiss of India". The lush green meadows are surrounded by thick pine and cedar forests. Grazing herds of sheep, goats and other milch cattle present a prefect pastoral scenery. There is a small lake in the center of the saucer shaped meadow which has in it a floating island.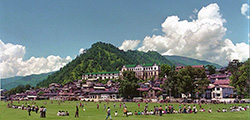 Chamba - 52 KM from Dalhousie
The town stands on a plateau on the right bank of the Ravi river valley between Dhauladhar and Zanskar ranges south of the inner Himalayas. This town was founded by Raja Sahil Varman when he conquered the lower Rani valley from the petty chiefs called Ranas and Thakurs in the beginning of 10th Century. It seems the original name of the town was Champa as mentioned in Kalhan's Rajtarangani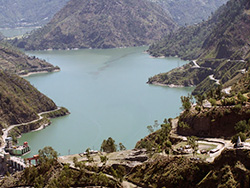 Chamera Lake - 30 KM from Dalhousie
Boating Point located at Taleru is at a distance of 30 km and is one of the most secnic sight of Dalhousie. This sight offers to explore the most beautiful backwaters of Chamba Valley. The Chamera Dam Lake is one of the modern engineering marvel of the State of Himachal Pradesh, as also provides an oppurtuinity to have a exiting boating trip around the magnaficiant lake.
Sach Pass (Snow Point) - 140 KM from Dalhousie
Sach Pass located at a height of about 4414 meters (14,478 feet) from the sea level. Sach Pass is most frequently used by the local people, officials serving in Pangi and also by the shepherds. There is a motorable road across Sach Pass, and is in good shape. At the top of the Pass, vision extends to the rivers of the plain to the south. Limitless charm beholds the eye on the top.